0
The Commissary Internet Special Order Form is for use by installation organizations and units to support military activities. The form is designed to address recurring orders by allowing the military activity to populate the bar code field and the commissary to scan the bar code.
NOTE for commissary patrons: You may use this form to order case quantities of items carried by your store or case quantities of items that are not usually found in stores in situations where the item is carried by a larger classification of store supported by a mutual distributor.
Commissaries will no longer accept special orders for unreasonable quantities or frequent or multiple special orders. Generally, quantities may be considered unreasonable when they exceed three cases or 36 units. This includes frequent or multiple orders and transactions in an attempt to stay below this threshold. Installation organizations and units are excluded from the aforementioned restriction.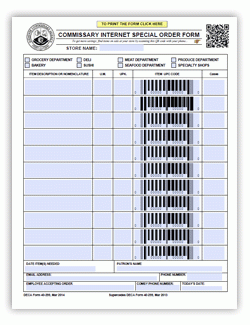 0
Using Acrobat (download a free copy of Acrobat Reader if you don't already have it), fill out the form using the directions below:
Store Name: Enter the store name where you wish to place the order.
Check the department(s) for the item(s) you are ordering.
Enter the item description or nomenclature.
U.M.: Enter the unit of measure (e.g., ounce, quart, gallon, pound).
UPK: Enter the unit pack information (i.e., how many units are packaged together).
Item UPC Code: Click to Item UPC code box where the bar code is displayed. The box will change to show 11 zeroes. Replace the zeroes with the first 11 digits of the item UPC (Universal Product Code) found on the item you are ordering.
Cases: Enter total cases you are requesting.
At the bottom of the form, enter date you need the items with your name, email address and phone number.
Make sure to save your completed form.
Print out the completed form and take it to your local store or email it as an attachment to your store's email address (look up your store's address or email).