0
The Defense Commissary Agency (DeCA) employs more than 12,000 plus civilians throughout 13 countries as it delivers a premier commissary benefit to the U.S. armed services community. Working at DeCA is exciting, meaningful, and rewarding.
Learn More about Careers with DeCA
1
Grocery Stores and a Whole Lot More
DeCA operates commissaries (commonly known outside the military as a grocery store) on most military installations worldwide. DeCA is one of the few international grocery chains in the world. While commissaries are similar to a common grocery store, they do differ in several significant ways. For example:
Sales are made only to authorized patrons
Sales are not profit-driven, because the services the commissary provides are a BENEFIT
Most commissaries are organized similarly to traditional retail grocery stores. The functions are arranged into departments as described below:
Customer Service: Includes a limited access area, a customer service center and front-end cash registers
Grocery: Sale of perishable and semi-perishable food items and household products
Management Support: Provides administrative, computer, and resources functions related to the operation of the store
Meat: Processes and displays fresh and packaged meats and merchandise received frozen and sold chilled
Produce: Processes and displays fresh fruits, vegetables, and household plants
Receiving: Receives and in-checks all merchandise, except for meat and produce
Learn about our worldwide commissary store locations.
1
Career Paths
We're also a large Federal Government Agency with a wide range of career fields. We encourage all qualified employees/prospective employees to apply for any available opportunity in the store, region, or headquarters as you expand your product knowledge, develop your skills and enhance your value as a DeCA team member. Below you will see a snapshot of various career paths that DeCA offers in our stores.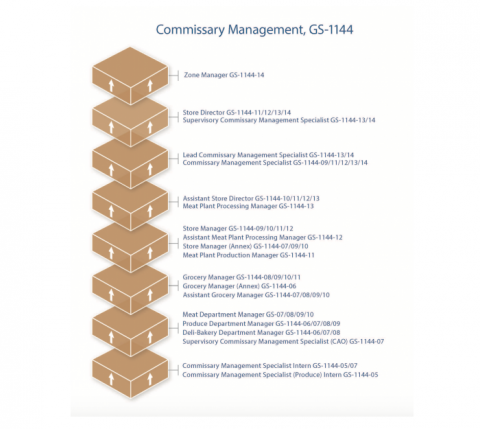 0
As a part of the DeCA team, you will have an opportunity to work in a motivating environment that is focused on taking care of its employees, their families, and most importantly the commissary patrons. DeCA is a great place to build your Federal career and includes a very comprehensive benefits package. Please use the topical index on the left to explore additional employment information ranging from job openings to employee benefits.
1
HR Contact Information
Commercial: (804) 734-8000 x48508
DSN: 687-8508
General Inquiries*: HRWebPOC@deca.mil
Employment Verification for Former DeCA Employees: Please use the fact sheet below if you are a former DeCA employee that is seeking Employment Verification.
0
*Please do not send resumes to this site. You must apply for vacancies through USAJobs.