DeCA displays contests for the sole benefit of our customers. DeCA does not endorse any company, products or services.
Overseas stores may have substitute events for certain promotions. Check with your commissary's store manager to verify if they are participating in the following sales events:
More Ways to Save
Don't forget to look for Your Everyday Savings! (YES!) deals on the items you buy most frequently.

Enter for a chance to win a prize package including a year's supply of Wonderful Pistachios, an action-packed family adventure to Las Vegas, and VIP tickets to Marvel's Avengers S.T.A.T.I.O.N. Win other "I Am Groot" themed prizes with the "Groot Gets Crackin'" Sweepstakes! We're giving away over 30 prizes with one lucky grand prize winner. Groot Gets Crackin' Sweepstakes (wonderfulpistachios.com)

Visit www.militarycatclub.com to enter.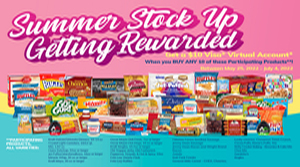 Get a $10 Visa Virtual Account
CONUS Commissary Shoppers! Get a $10 Visa virtual when you purchase 10 participating products while shopping your Commissary now through July 4th (or while supplies last). Purchase any combination of 10 participating products - to include the same product - to qualify! No limit per household. See link for complete details!
https://commissarypromo.com/home