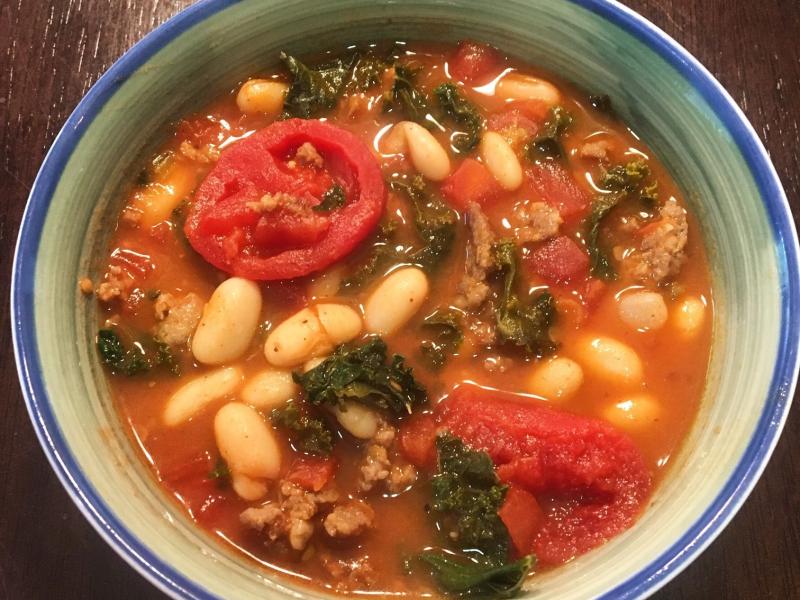 Spicy Turkey Sausage and Kale Chili
Macros / Serving Size
Protein 35.45 g | Fat 15.35 g | Carbs 32.76 g
% Calories of Macros / Serving Size
Calories 393 | Protein 35 % | Fat 34 % | Carbs 32 %
Nutrients / Serving Size
Fiber 9.64 g | Sodium 354.93 mg | Sat. Fat 3.55 g
Ingredients (Serves 4)
1 tbsp. olive oil
1 lb. ground turkey, 93% lean, 7% fat
1 15.5 oz. can cannellini beans, drained
32 oz. low-sodium chicken stock
1 14.5 oz. can low-sodium diced tomatoes
1 14.5 oz. can stewed tomatoes
2 tbsp. tomato paste
1 bunch kale, stems removed
¼ tsp. cayenne pepper
Salt to taste (optional)
Directions
In a large pot or Dutch oven, heat the olive oil to medium-high heat. Add the ground turkey. Once browned, drain.
Add the chicken stock, tomatoes, beans, cayenne pepper, and tomato paste. Stir until the tomato paste breaks up and is absorbed fully.
Tear the kale into pieces and add to the chili. Cook for five minutes and serve.
Tip
The longer the kale is cooked the less stiff it will be and will lose it's vibrant green. To thicken the chili, let it simmer for 30 minutes before adding the kale.