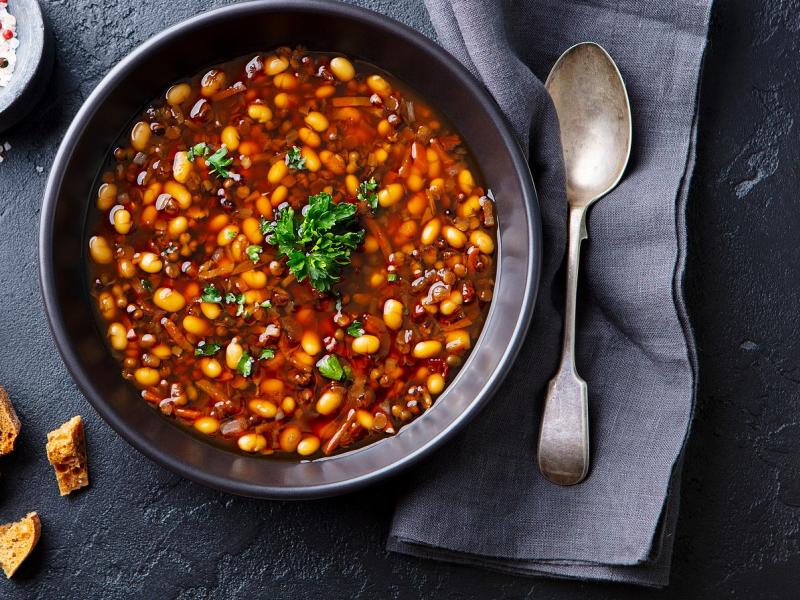 Quick, Pantry Staples Vegetarian Chili
Macros / Serving Size
Protein 12 g | Fat 14 g | Carbs 27 g
% Calories of Macros / Serving Size
Calories 264 | Protein 17 % | Fat 45 % | Carbs 38 %
Nutrients / Serving Size
Fiber 6 g | Sodium 341 mg | Sat. Fat 4 g
Ingredients (Serves 4)
1 16 oz. can pinto beans, drained and rinsed
1 15 oz. can whole kernel corn, drained and rinsed
1 14.5 oz. can petite diced tomatoes, No Added Salt
1 14.5 oz. can low-sodium chicken broth
1 cup of water
1 tbsp. olive oil
½ medium white onion, diced
1 medium zucchini, diced
2-3 cloves of fresh garlic, minced
1 tsp. ground cumin
4-5 dashes black pepper
1 tbsp. chili powder
4 oz. sharp cheddar cheese
4 tbsp. non-fat, plain Greek Yogurt
Lime zest, (optional)
1 tbsp. fresh cilantro, chopped (optional)
Salt, to taste (optional)
Directions
In a large sauce pan, bring olive oil to temperature over medium heat. Add the diced zucchini and onion and sauté adding 1-2 tbsp. of water to prevent sticking and burning. Once the vegetables begin to soften, add the dry spices. Cook stirring constantly for 1 minutes. Add the canned goods in order and then the remaining water. Cover and simmer until the zucchini is very tender (about 10 minutes).

Remove from heat and serve 1/4th of the chili in a bowl topped with 1/4th of the avocado, cheese, and yogurt. Zest with a bit of lime and add a bit of cilantro if desired.
Tips
Make in advance and allow the flavors to blend for a day.

Double the batch and freeze half for a quick dinner at a later date.

For those that desire meat, consider adding ½ lb. of cooked lean meat in step 2.

Consider serving alongside a leafy green salad or on top of a serving of brown rice or quinoa.

Nutrition analysis is based on the use of No Added Salt canned tomatoes. Although the recipe calls for 15-15 oz of low-sodium chicken broth, canned, analysis was based on the use of 14.5 oz. Optional ingredients were not included in the nutrition analysis.