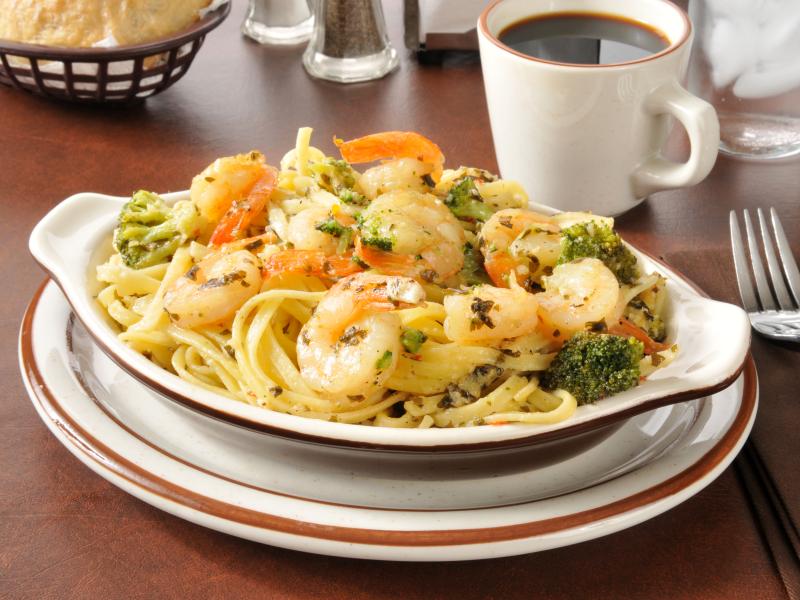 Lemon Garlic Parmesan Shrimp Pasta

Macros | Serving Size
Protein 41g | Fat 21g* | Carbs 22g
% Calories of Macros | Serving Size
Calories 421 | Protein 38% | Fat 42% | Carbs 21%
Nutrients | Serving Size
Fiber 4.47g | Sodium 577mg | Sat. Fat 9g

Ingredients (Serves 4)
8 oz. of whole grain/whole wheat pasta
(Such as spaghetti or fettucine)
2 tbsp. unsalted butter
2 tbsp. olive oil
4 garlic cloves, minced
1 lb. frozen cooked shrimp, peeled
1 large lemon
1 tsp. lemon/pepper seasoning blend
4 oz. shredded parmesan cheese
12 oz bag frozen broccoli
Salt at table to taste (optional)

Directions
In a large pot, cook pasta according to package directions. Drain and reserve 1/3 cup of pasta water. While pasta is cooking, microwave frozen vegetables in package according to directions.
In a large skillet melt 1 tbsp of butter and heat oil over medium heat. Add shrimp and garlic and sprinkle lemon seasoning over shrimp. Brown shrimp lightly on each side. Add a small amount of pasta water and use a spatula to release the flavors infused in the stock.
Add pasta and shrimp to the skillet along with the reserved water. Toss in cooked broccoli and juice half of the lemon.
Add the remaining butter and ½ of the parmesan cheese and serve 1/4th of the pasta in a large dish and top with 1/4th the remaining parmesan cheese.

Note
Consider zesting the lemon before using and adding a bit of zest along with the parmesan cheese just before serving. Add some fresh some chopped fresh basil and/or parsley when tossing the pasta in for a bit more flavor.
Eating healthy is too expensive. It takes too much time to make nutritious meals." "I don't have the skills and space to prepare everything from scratch and only use fresh ingredients." "Nutritious food is bland and boring." "My kids will not eat healthy foods." These are many of the thoughts that make some feel that building a healthy eating pattern is impossible.
First, consuming nutritious foods does not have to be expensive. One can quickly prepare their food at home; there is nothing wrong with choosing a combination of fresh, frozen, and boxed items. The key is to know which items to select. When shopping in the commissary, the dietitian-approved shelf tag is there to assist you. Here are just a few tips to consider:
Frozen Vegetables, Fruits, and Proteins: Choose items with no added sugars or fats and that are not in sauces. There should be very few added ingredients.
Boxed Pastas and Grains: Select plain and whole wheat/whole grain. Limit items that have added flavoring and sauces.
Canned vegetables: Look for low sodium and no added sugar varieties.
Canned fruits: Choose items with no added sugar and item packed in juice. Limit food items that state "in syrup, "unhealthy fats, sodium, and empty calories should be the key.
Pretty plated foods are only sometimes fresh ingredients and gourmet cooking. Do the best you can with your current skill set and time. Start with one goal, such as trying a recipe for a homemade version of an item you or a family member likes to order when eating out. You will be surprised at how much less expensive it is to make than eating out, and if chosen correctly, you can find a recipe that will match your cooking skills and budget. Prepare the meal as a family. All of you plan to go out to eat, drive to the establishment and wait. Have all use this time to assist. Make meals and memories together.
This recipe features a version you may see on Seafood and Italian menus. Try this one and compare a typical restaurant's understanding of nutritional values to this version. Also, the cost of this meal feeds four and is likely less than just one plate eating out.