TOP WOMEN IN GROCERY: Progressive Grocer recognizes 11 commissary leaders selected among best in retail for 2023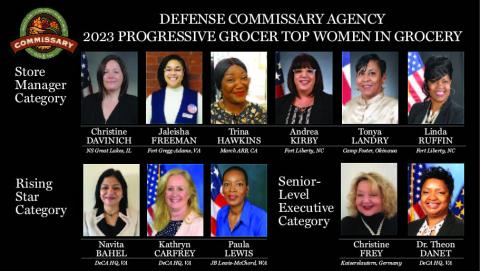 FORT GREGG-ADAMS, Va. – A record number of Defense Commissary Agency (DeCA) female leaders have been recognized as Progressive Grocer's Top Women in Grocery for 2023.
The following 11 women, chosen in three categories, are among 400 selected this year from over 1,000 nominees:
Senior-Level Executive
Dr. Theon Danet, the agency's chief information officer and executive director of the IT Group who now serves as DeCA's acting deputy director. She is a former Top Women in Grocery honoree
Christine Frey, director of the Overseas Financial Operation Division based in Kaiserslautern, Germany and former Top Women in Grocery honoree
Rising Stars
Navita Bahel, Information Technology (IT) team lead and systems manager, DeCA Headquarters, Fort Gregg-Adams, Virginia
Kathryn Carfrey, chief business financial manager, DeCA Headquarters located at Fort Gregg-Adams
 Paula Lewis, Zone 12 manager based at Joint Base Lewis-McChord, Washington.
Store Manager
Christine Davinich, store director at Naval Station Great Lakes, Illinois
Jaleisha Freeman, assistant store director at Fort Gregg-Adams, Virginia
Trina Hawkins, grocery manager at March Air Reserve Base, California
Andrea Kirby, store director at Fort Liberty South, North Carolina during award period; now serving as store director at Fort Cavazos, Texas
Tonya Landry, store director at Camp Foster, Okinawa
 Linda Ruffin, assistant store director at Fort Liberty North, North Carolina
Since 2007, Progressive Grocer's "Top Women in Grocery" has recognized the best and brightest female leaders in the North American retail food industry. The winners demonstrate extraordinary achievement in leading innovative corporate initiatives, executing financial and/or strategic objectives, achieving exceptional performance benchmarks, problem-solving acumen and community outreach.
"We are incredibly proud to have a record 11 leaders selected this year. It is quite a prestigious honor that recognizes their hard work and achievements and the value they bring daily to their teams and to DeCA," said Chris Lyons, DeCA acting chief of staff. "It shows their hard work and accomplishments are noticed, appreciated and valued by their peers in the grocery business."
DeCA's winners were recognized in the June print issue of Progressive Grocer magazine, as well as on progressivegrocer.com. The magazine will further honor the winners at a celebration to be held in Orlando, Florida, in November.
"All of these women are mission-driven leaders who embody the leadership qualities that are moving the Defense Commissary Agency forward – by finding and implementing creative solutions, increasing operational efficiencies and mentoring future DeCA leaders, all while understanding the unique role we play in serving our deserving patrons," Lyons said.
-DeCA-
About DeCA: The Defense Commissary Agency operates a worldwide chain of commissaries providing groceries to military personnel, retirees and their families in a safe and secure shopping environment. Commissaries provide a military benefit, saving authorized patrons thousands of dollars annually on their purchases compared to similar products at commercial retailers. The discounted prices include a 5-percent surcharge, which covers the costs of building new commissaries and modernizing existing ones. A core military family support element, and a valued part of military pay and benefits, commissaries contribute to family readiness, enhance the quality of life for America's military and their families, and help recruit and retain the best and brightest men and women to serve their country.