HAPPY ANNIVERSARY: Commissaries honor Marines' 246 years of service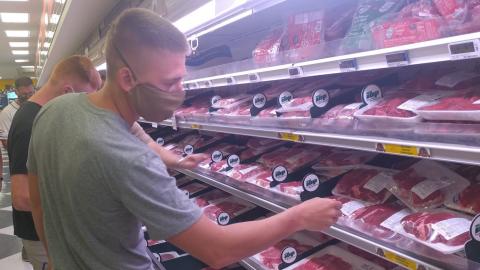 NOTE: Click here to see a video honoring the Marines' 246th anniversary.
FORT LEE, Va. – On Nov. 10, the Defense Commissary Agency (DeCA) salutes the U.S. Marines on the 246th anniversary of their establishment by the Continental Congress in 1775. 
Throughout its history, the commissary benefit has gained the admiration and gratitude of Marines and their families, said Marine Sgt. Maj. Michael R. Saucedo, senior enlisted advisor to the DeCA director.
"At DeCA we salute the Marine Corps' 246 years of service by delivering a commissary benefit that provides valuable savings to Marines, retirees and family members," Saucedo said. "The commissary consistently ranks as one of the military's top non-pay benefits, and many of our young service families simply could not make ends meet each month without the savings provided by the commissaries."
The tasks of feeding the troops during the Revolutionary War was not an easy one. Like the U.S. Army, the Navy and Marines also relied heavily on fresh food and drink. The quantity and quality of sea rations was even more important because land-based soldiers on campaign could supplement their diet by foraging through the countryside, but Marines onboard ships had to eat whatever was on the ship.
Various Navy agents were responsible for supplying the ships' foodstuffs. Civilians appointed to the post by the Secretary of the Navy purchased or contracted for high-quality food and drink.
When the ships were in port, they replenished the supplies of fresh foods, including sizable portions of beef and pork kept in salt barrels. Salted meat had to be soaked overnight in tubs of fresh water before being boiled in large copper or iron cauldrons on the galley stove. This process would have leached out some of the salt, but there was still a high quantity left in the meat after cooking.
Marines and sailors aboard the warships were issued a weekly ration that lacked in nutritional value as well as flavor and consisted of 3 pounds of salt pork, beef or fish; a pound of dried peas; a pound of flour; a pound of coffee; a wad of tobacco and a couple of ships biscuits known as hardtack, a staple in their diets also known as ship's bread.
Hardtack were unleavened biscuits made of flour and water and baked until they were hard and dry. Although they lacked any flavor, they had a long shelf life and could be stored in barrels for at least a couple of years. Unless the troops were graced with strong teeth and powerful jaws, they could not bite into the hardtack. However, they overcame this in several ways. One was to wrap the hardtack in cloth and smash it with something hard until it broke into bite sized pieces. Another was to soak the hardtack in whatever liquid was on hand.
Marines and sailors also received a half pint of spirits each day, but it was served to them in a controlled manner in order to curb drunkenness onboard the ship.
A major challenge facing sailors and Marines was procuring fresh vegetables and fruit while at sea. When ships pulled into port, their crews could purchase these goods from local vendors, but taking them aboard ship was another dilemma because the perishable products began to rot within a couple of days.
Bumboat operators, vendors who peddled their provisions to ships anchored offshore, sold a vast array of goods to the crews including fruit, vegetables, baked goods, coffee, tea, rum and tobacco. However, they charged steep prices for their wares and took advantage of the fact that the sailors and Marines were desperate to receive these goods.
Congress began establishing ships' stores aboard each ship in 1909 to help combat the bumboat operators. These became the first Navy commissaries long before the creation of brick and mortar stores.
Eventually, the Marine Corps began establishing commissary sales stores in buildings that had once been used as warehouses. Customers had to enter the commissary in one door, show their ID, approach the counter and give a list to the clerk. Then the clerk filled the order with foods and other items on their shelves, a cashier rang up the order and the customer exited through another door.
By the 1920s, self-service commissaries began to become popular. After World War II there were just under two dozen Marine Corps commissaries, and in 1991 they joined the other service commissary operations in consolidating under the Defense Commissary Agency.
"Today, DeCA provides the commissary benefit for Marines and other service members, saving individual authorized patrons thousands of dollars annually when compared with civilian supermarkets," Saucedo said.
Members of the Marine Corps community, along with their peers in the other armed services, may shop at any of DeCA's nearly 240 commissaries at U.S. military installations around the world. Today, there are 18 DeCA stores at Marine Corps bases, including three in Okinawa and one in mainland Japan.
-DeCA-
Photo Caption: Marines shop in the meat department of the Camp Pendleton Commissary in California. (DeCA photo: Robert Lunetta)
About DeCA: The Defense Commissary Agency operates a worldwide chain of commissaries providing groceries to military personnel, retirees and their families in a safe and secure shopping environment. Commissaries provide a military benefit, saving authorized patrons thousands of dollars annually on their purchases compared to similar products at commercial retailers. The discounted prices include a 5-percent surcharge, which covers the costs of building new commissaries and modernizing existing ones. A core military family support element, and a valued part of military pay and benefits, commissaries contribute to family readiness, enhance the quality of life for America's military and their families, and help recruit and retain the best and brightest men and women to serve their country.